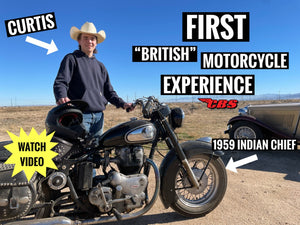 First "British" Motorcycle Experience
Hey everyone!
Do you remember the first time you ever road a "British" Motorcycle?
Today Curtis, (CBS shipping clerk) will be taking his first ride aboard a 1959 Indian Chief (Royal Enfield)
Curtis has been riding motorcycles for about 7 years now mainly riding his 2005 Honda CRF250(R) Malcolm (pops & co-owner of CBS) was kind enough to let Curtis take his Indian Chief out for a spin..
Watch the video today to see Curtis's first impressions and thoughts of his first "British" motorcycle experience
Lets just say... he's hooked!
Thanks for viewing today
Thanks for reading & watching today's post
Feel free to drop us a comment in the section below if you have any questions 
Ride safe! 
---