Classic British Spares
Vintage Triumph, BSA & Norton Motorcycle Parts Source
Upcoming & Exciting News - Daytona 3/4 Motorcycle Helmets & Visors (Now-In Stock)
CBS is proud to announce that we will be stocking a full line-up of Daytona 3/4 motorcycle helmets
What I personally like about these helmets is that they look very close to the original Bell "Magnum" helmet that was popular in the mid 1960's through the 1970's
Features a slim shell so you don't look like a mushroom...
D.O.T. approved!
We also have a line up of different visors as well

Click here to view our entire range of Daytona helmets and visors
Featured Bike of The Week
Jeff, from Texas has sent in a photo of his 1969 Triumph TR6R (650)
From the photo, bike looks really original, maybe original paint?
Has all the "correct" pieces...
Thanks for sharing!

Want your bike featured on our homepage? - send us photos to submissions@classicbritishspares.com
"Deal of the Week" - Triumph (Unit) Gas Tank Mounting Hardware Kits - Starting @$14.95
 Need to mount your Triumph gas tank onto your frame?
We now have complete gas tank mounting hardware kits ready to be fitted
Some kits come with studs, nuts, bolts and rubbers, while other kits only have rubbers for replacements

Kits will fit most Triumph unit construction twins including the 350, 500, 650 & 750 models...
Also fits Triumph Trident (T150) models from about 1968-1974.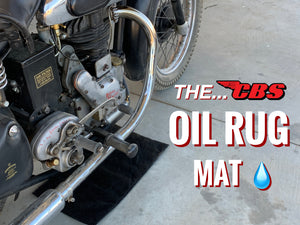 "The Shammy For Your Oil Drips"
If you're embarrassed to walk into your garage, parking your bike on the street or at a show only to worry about a puddle of oil on the ground that everyone will talk about then we have an elegant, affordable and practical solution to all your oily problems
Our new quick, clean and convenient oil rug mats are deigned to catch all types of oil that will work its way out of your engine on to the ground 
Using the CBS Oil Rug Mat means you can get rid of all those cheesy ways of catching oil and hassle clean up jobs..
-No more oily and saturated rags to keep 
-No more ugly "pans" or "tubs" to catch oil 
-No more oil stains 
-No more fussy clean-up chores
Purchase "1" Oil Rug Mat & get the other 1/2 off! (any size)
Starting at only $14.95 - free USA shipping
Finding Parts - Using Our Site
Searching for BSA, Norton and vintage Triumph parts has never been easier until now. Our state of the art website is designed to help you find all the parts you need fast and easy. 
Our site navigates in such a way that having the OEM part number is a plus. You can either search by number and/or you can search by description.
Keep your descriptions short and stay away from long tail words like "1970 Vintage Triumph Parts". Instead choose words like "Triumph bearings" or "BSA crankshaft". In this case, the simpler the better!
Should you have any questions please feel free to contact us by calling or emailing us during business hours.
Our Mission
Classic British Spares was founded in Southern California during the early 1990's but we currently reside in Lancaster, CA.
We firmly believe that owning a vintage British motorcycle should be affordable for all walks of life which is exactly why we offer a large range of vintage Triumph parts, BSA and Norton Commando parts all at everyday low prices.
We stand behind our products and parts across our site. Customer service is our #1 priority and getting your order correct and accurate every time.
We hope that you will find our site valuable for all your parts needs and technical information.
Click here for more information about who we are and our vision.
Many Of the Brands We Are Proud To offer