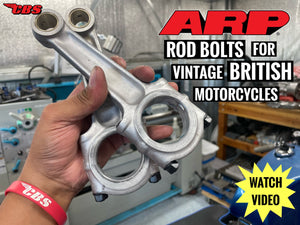 ARP Rod Bolts For Vintage British Motorcycles
Hey everyone - thanks for tuning in today!
In this video we will cover our range of ARP rod bolts for vintage Triumph & BSA twins
ARP rod bolts are "hands down" the best quality rod bolts you can install in your old British bike
Made right here in the USA, California to be exact…
On your next engine build, install a set of ARP rod bolts 💪🏾
Thanks for watching!
Purchase
See the link below for more info and to place an order today...
Thanks for viewing today
Thanks for reading & watching today's post
Feel free to drop us a comment in the section below if you have any questions 
Ride safe!
---