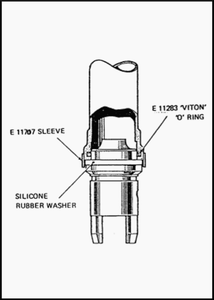 Useful Tips: Triumph 650 Push Rod Tubes 1969-70
Today's post is simply on vintage Triumph 650 twins 1969-1970 push rod tubes and useful upgrades. If your a British motorcycle owner then you know about oil leaks, seeping, or dripping. The key when rebuilding an engine is how can I make this engine as oil tight as possible? With vertical split engine cases and exposed push rod tubes, you can only do some much. If your Triumph isn't leaking oil, typically that means there is no oil in it! Below I will cover and provide some useful tips for late Triumph 650 owners looking to really keep there push rod tubes oil tight.
Triumph push rod tube conversion diagram for 1969-1970 models.
  For the 1969 Triumph 650 model year, we saw a new design and change for the intake & exhaust push rod tubes. A very simple set-up compared to the previous years. Although it was a new design, we wouldn't necessarily state that is was the most 'effective' compared to its predecessors. Utilizing only two o-rings or 'washers' per push rod tube under part number 70-7310. This same set-up was also used the following year in 1970. In reality, this 'upgrade' is merely taking the 1971-1973 650/750 models push rod seal configuration and updating them to the 1969 & 1970 models. Whats different from 1969/1970 & the 1971-73 push rod tubes and configuration? The whole set up is different, but, it will take no modifications to switch over.
A brief set up instruction from a Triumph service bulletin 
  Lets start with the push rod tubes. The Triumph 1969 & 1970 650 twins used the same push rod tubes under number 70-9349. Only those two years they where used. Unique in there own way by having an 'internal o-ring groove' which allows the push rod tubes to be used without a bottom cup. (Yes, the tappet guide blocks where changed to suit the new tubes). Many folks think that using the 1965-1968 push rod tube bottom cup (70-4746) on the later 1969-1973 models will work, that is incorrect, it will not work. The 1969/1970 & 1971-1973 push rod tubes are different, but they are interchange with one another as they are the same size in length and compatible with the tappet block and cylinder head. With this mod, there is no need to change your existing push rod tubes if your models falls in the 1969-1973 range.
 Triumph Service Bulletin from 1988 in regards to the "B" range push rod tubes.
  For Triumph 1969/1970 models we recommend that you use 71-1707 (E17107) bottom sleeve as used on 1971-73 650/750 Twins. Along with the sleeve, we also recommend using the later 'thick' seal 70-4752 (E4752) in conjunction (below) the o-ring. The bottom sleeve will allow a much tighter fit and keeps the new 'thick' seal from wanting expand and deforming under pressure when torquing the head. This same set-up described above was standard equipment on the 1971-1973 models. Now keep in mind when you are using the new sleeve and 'thick' seal, you are not changing or removing any parts. Just add 71-1707 sleeve & 70-4752 seal to the bottom of your existing push rod tubes. Always keep in mind that you must have the proper "crush" on your Triumph push rod tubes and seals. We usually aim for .045" and have had great results. Failing to check your pre-fit "crush" could cause your cylinder head to become warped and cause push rod tube leaks. You can find all your Triumph "push rod" related parts including seals, tubes, etc in our store.
---
13 comments