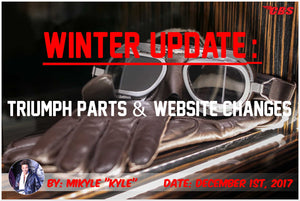 Winter Update: Triumph Parts & Website Changes
With winter coming in strong now is the perfect time to turn your pot belly stove on and get your hands dirty.
Getting your vintage Triumph project together by spring will take a lot of effort and time but C.B.S. will be there every step of the way.
 
Winter has always been a great time to start and finish new projects; especially for our customers and fellow builders back east where the cold weather hits hard.
 
If this is your first time visiting Classic British Spares or reading one of my blog post, then I have some news for you that will keep you coming back.
So what's new CBS?
What's new? Where do I begin! Our goal for this winter is to grow our inventory which consists of offering a wide range of new parts and accessories throughout our site.
There has been 2 newest updates that I would like to take the time to share with you.
Used parts
When most folks are looking for used vintage Triumph parts, most will automatically go to eBay as their first source.
What separates Classic British Spares from eBay is that our used parts section offers rare, quality, and usable secondhand motorcycle parts that we can stand by.
I understand that selling new parts does not always fulfill the customers needs which is why selling used parts on our website will allow us to get into better detail regarding fitment, condition, and quality all at an affordable price.
No bait and switch
Some of the used vintage Triumph parts along with BSA and Norton parts will consist of Lucas components, crankshafts, camshafts, engine cases, cylinder heads and a whole lot more quality used parts.

Low and affordable prices

Detailed photos and listings

Free US Shipping

All parts are to be inspected
We do this for a living and we have a vast amount of information and documents which means you get the right used parts for your application - "no bait and switch".
Website changes
Classic British Spares has used the same website platform by Shopify with very little changes being implemented for the past 4 years.
Although the old site worked great there was always a desire to upgrade and offer a site that was faster, quicker and easier to navigate.
Deciding to leave one website platform to go to another was more difficult that it sounds.
Working long hours on short days made the switch possible.



Below are some of the website changes that we implemented to help you better find the parts that you need.
Added specific motorcycle application categories

Added more detail part numbers for every listing

Reworked website coding for faster navigation and search

Removed many unnecessary pages that were either broken, lost, or not being used.
To wrap it up, this winter now you can enjoy a faster and more reliable site along with more vintage Triumph motorcycle parts.
If you have not done business with CBS before I encourage you to reach out to us as we would love to chat with you about your next project.
Give us a call or send us a text.
Click here for more blogs, news and website updates.
Thanks for reading today!
Save
Save
Save
Save
Save
Save
---