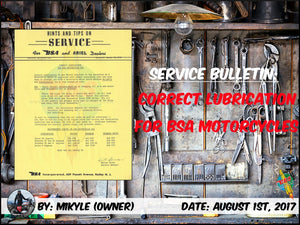 Service Bulletin: Correct Lubrication For BSA Motorcycles
Click on the image to above to enlarge (you can also print, share, and save)
Choosing the correct oil for your motorcycle plays a vital and key role on how long your engine will last for. To be clear, not all motor oils are created equal. The blog post that I will be sharing with you today is in reference to a BSA service bulletin titled "Correct Lubrication" for BSA Motorcycles. This service bulletin is dated March 12th, 1964 and it will offer you the BSA point of view of what they recommend for oil change intervals what type oil to use.
Despite this service bulletin dating back from 1964, all the information as shown and described is still relevant today.
250 mile oil change
When you purchase a new motorcycle the manufacture will always recommend that you perform it's first oil change at 250 miles. The reason for 250 mile oil change is to ensure that the engine is thoroughly cleaned from any type of debris that is lingering in the new engine. The gearbox and primary oils must also be changed at the same time as the engine oil.
Not only do you have to change all the oils you also should change the oil filter that is inside the engine. As we know almost all British motorcycles do not have external oil filters but the service bulletin is referring to the sump screen, and oil filter screen.
1,000+ miles
At 1,000 miles it is recommend to repeat the same process as the 250 mile interval. Change and replace engine oil, gearbox oil , primary oil, and clean all screens and filters. After the 1,000 mile service it is recommended to repeat the same service every 2,000 miles.
Failure to change engine oil
Failure to comply with the manufacturers maintenance routine can cause premature wear and damage to your engine. Those that fail to change and re-freshen your oil are subject to premature engine damage. Rod bearings, roller bearings, ball bearings, and your oil pump always rely on clean oil to ensure maximum life.

It is always best to change the oil more often then what the manufacturer recommends. Always use a high quality brand name oil in your engine - never settle with cheap generic oil.

Recommend grades of BSA motorcycle oil
Below you will find a simple chart of the recommend oil to use in your BSA. You can disregard the note recommending to use BSA brand specific oil. Any modern high-grade brand oil will work fine in your application.
Temperature

Engine

Gearbox

Primary Drive

Above 60

°




SAE #50

SAE #50

SAE #20

Between 32 - 60

°

SAE #40-30

SAE #40

SAE #20

Between 32 - 0

°

SAE #30-20

SAE #30-20

SAE #10

Below 0

°

SAE #10W

SAE #10W

SAE #10
"Keep the oil levels up..."
When oil levels drop you introduce more heat. Oil keeps your engine cool. We always recommend to keep the oil levels up in your engine, primary, and in your gearbox.
As always thank you for reading today's blog post. I hope that you have found this information useful. Please feel free to comment in the section below. For more technical information and other blogs please click here.
---
8 comments