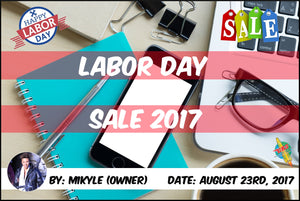 Labor Day Sale 2017
Have you ever heard of that saying "you can't wear white after Labor Day?" Well I honestly I find that statement silly and pointless...

But I have a saying that actually might have more value to you- "Labor Day Sale 2017"!
Sales are a wonderful way for you to save money and also get the parts that you need to complete your restoration or rebuild no matter how big you're project is.

On September 4th, 2017, you can cruise over to www.classicbritishspares.com and start putting your parts list together to place an order.
Remember this sale will last 1 day only...

 "Save BIG on all parts..."
Save BIG on all parts in stock - choose from tires, gas tanks, gasket sets, engine parts, Amal premier carburetors, and a whole lot more.
Use the discount code: LABORDAYSALE2017 to obtain the 8% off of your order when spend $75 or more. The discount code must be applied at checkout before you pay.

During the sale we will still offer free shipping on all orders that are placed in the United States as usual.
Get ready to save BIG!
Remember the sale is only 1 day. Starts on Monday, September 4th, 2017. If you have any questions please feel free to drop us a call (661-951-2120) or shoot us an email to sales@classicbritishspares.com

---