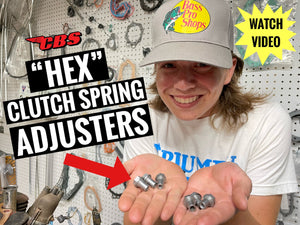 "Hex" Clutch Spring Adjusters
Hey everyone!
Curtis here and we are back again with another video…
In this video I will cover our new "hex" clutch spring adjusters that we designed in "house" to make clutch adjusting faster and more accurate
"Hex" clutch adjuster nuts will replace part numbers 57-2526 as used on many Triumph and BSA motorcycles
Features a 1/4" x 26 with a 12mm hex head
Watch the video above for more details..
Purchase
 Click here to purchase your own "hex" clutch spring adjusters...
Thanks for viewing today
Thanks for reading & watching today's post
Feel free to drop us a comment in the section below if you have any questions 
Ride safe!
---