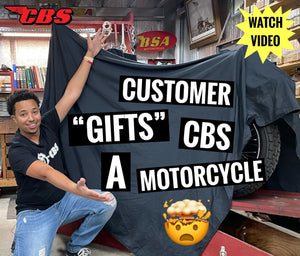 Customer "Gifts" CBS A Motorcycle
What's up CBS fans!
Kyle here - tonight we have a very cool video that we want to share with you all
A customer named Boyd, from Tennessee, has sent the shop a gift...
What could it be?
Watch the full video now to find out!
A HUGE thank you to Boyd, we here at CBS are honored 
Thanks for viewing today
Thanks for reading & watching today's post
Feel free to drop us a comment in the section below if you have any questions 
Ride safe!
---