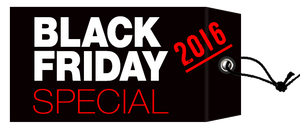 Black Friday & Cyber Monday Sale 2016
2016 Black Friday & Cyber Monday
Get Ready.... Set....
Save

!
Yes it's that time of year again. The time to save money and make out like a bandit. Everyone loves a GOOD honest sale in which you can get what you want, at a price you deserve. These days, most online retailers and big shopping giants advertise "big sales" to get you inside there store or to visit there site, but is there really a "big sale" going on? I've been shopping on Black Friday before, sometimes I find sales and sometimes I find items on sale that they should be giving away... That may be a little harsh, but it's true! If you want me to stay up all night or get me out of bed at 3 AM to go shopping, there better be a good sale going on. Unfortunately over the years, Black Friday seems to be "just another day".
November 25th - November 21st
As of now, 2016, we want to wind down the end of the year with a "bang"! What we mean is, we want our Black Friday & Cyber Monday sale to be BIG where you can save money, time, and ultimately get what you really want. To do this, we will have our annual 2016 Black Friday & Cyber Monday sale the entire weekend. Not just Friday, and then on Monday. We will be having our sale the WHOLE weekend starting on Friday, November 25th, through Monday, November 21st. Everything on our site will be subject to 10% off

no minimum purchased required

. This is your chance to save BIG on Boyer Bransden ignitions, Amal Premier carburetors, Apparel, Vintage Triumph parts, BSA parts, any everything else listed on our website. Visit our official Classic British Spares homepage to obtain the discount code when the sale begins. Don't miss out!

---